Posted On Sabtu at di 1:48 PG by kerengga
LOS ANGELES, California (CNN) -- Michael Jackson's family and about 200 of their closest friends gathered on a hill Thursday evening for their final farewell to the pop singer, who died 10 weeks ago.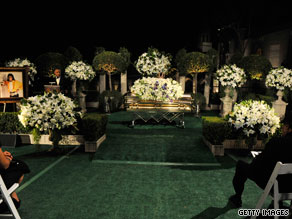 Thursday's service for singer Michael Jackson began 90 minutes past the announced start time.
Jackson's burial may lay to rest some of the mystery and controversy that erupted with his sudden death on June 25.
His large family was divided over where the superstar's final resting place should be, but matriarch Katherine Jackson settled on a crypt inside the well-guarded and ornate Great Mausoleum at Forest Lawn cemetery in Glendale, California.
Thursday's service began 90 minutes past the announced start time, leaving dozens of celebrities -- including Elizabeth Taylor -- waiting in their seats for the 26 cars carrying the Jackson clan to arrive.

Gallery: Invitation for Jackson's service »
It began with Jackson's five brothers -- each wearing a single sequined glove -- carrying his flower-covered bronze casket onto the outdoor stage among six large bouquets of white lilies and white roses, along with green topiaries.
His three children, led by daughter, Paris, 11, placed a crown atop their father's coffin, which a family spokesman said it was "to signify the final resting place of the King of Pop."
Jackson's children, parents and siblings took their seats in the front row, while his nieces and nephews filled several rows of white chairs behind them.
After an opening prayer by Pastor Lucius Smith, soul music legend Gladys Knight sang the gospel hymn "His Eye Is on the Sparrow."
Clifton Davis sang "Never Can Say Goodbye," a hit he wrote for The Jackson 5 -- the group that featured a young Michael and his brothers.
What was said by Jackson's father, Joe Jackson, and others who took the lectern is not publicly known, because the family barred news cameras from the ceremony. A family statement issued afterward said close friends and family, including the Rev. Al Sharpton, spoke "spontaneously to celebrate Michael's life."
News helicopters hovering above captured video from a distance, but without sound.

Watch media cover Jackson funeral »
Lisa Marie Presley, one of Jackson's former wives and the daughter of Elvis, attended the service, according to the family statement. It did not mention Debbie Rowe, Jackson's second wife and the mother of his two oldest children.
Macaulay Culkin, the "Home Alone" actor who spent time with Jackson during his Neverland Ranch days, was there with his girlfriend, actress Mila Kunis.
-CNN-
Posted On Selasa at di 3:33 PG by kerengga
Posted On at di 2:55 PG by kerengga
Amir Junaid Muhadith (born Chauncey Lamont Hawkins, June 20, 1975 in Harlem, New York) better known by his stage name Loon, is an African-American rapper formerly part of P. Diddy's Bad Boy Records, where he released his self-titled debut album, Loon. He has also made many guest appearances on songs of the R&B and hip hop genres. In 2004, Loon left Bad Boy to start his own label, Boss Up Entertainment. Loon started his music career as a member of Mase's rap collective Harlem World (group). Along with his music Loon has also been featured in two movies directed by Damon Dash, State Property 2 and Death of a Dynasty.
Born Christian, Chauncey Lamont Hawkins(Loon) changed his name to Amir Junaid Muhadith after converting to Islam. He recently traveled to Mecca, Saudi Arabia, the holiest and most sacred site in Islam, to perform Umrah. He has since quit rapping and now is focusing on seeking knowledge and giving Da'wa.
-thedeenshow.com-