Posted On Ahad at di 8:06 PG by kerengga
Posted On Selasa at di 3:16 PG by kerengga
Posted On Sabtu at di 1:48 PG by kerengga
LOS ANGELES, California (CNN) -- Michael Jackson's family and about 200 of their closest friends gathered on a hill Thursday evening for their final farewell to the pop singer, who died 10 weeks ago.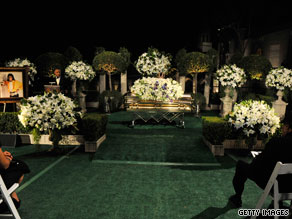 Thursday's service for singer Michael Jackson began 90 minutes past the announced start time.
Jackson's burial may lay to rest some of the mystery and controversy that erupted with his sudden death on June 25.
His large family was divided over where the superstar's final resting place should be, but matriarch Katherine Jackson settled on a crypt inside the well-guarded and ornate Great Mausoleum at Forest Lawn cemetery in Glendale, California.
Thursday's service began 90 minutes past the announced start time, leaving dozens of celebrities -- including Elizabeth Taylor -- waiting in their seats for the 26 cars carrying the Jackson clan to arrive.

Gallery: Invitation for Jackson's service »
It began with Jackson's five brothers -- each wearing a single sequined glove -- carrying his flower-covered bronze casket onto the outdoor stage among six large bouquets of white lilies and white roses, along with green topiaries.
His three children, led by daughter, Paris, 11, placed a crown atop their father's coffin, which a family spokesman said it was "to signify the final resting place of the King of Pop."
Jackson's children, parents and siblings took their seats in the front row, while his nieces and nephews filled several rows of white chairs behind them.
After an opening prayer by Pastor Lucius Smith, soul music legend Gladys Knight sang the gospel hymn "His Eye Is on the Sparrow."
Clifton Davis sang "Never Can Say Goodbye," a hit he wrote for The Jackson 5 -- the group that featured a young Michael and his brothers.
What was said by Jackson's father, Joe Jackson, and others who took the lectern is not publicly known, because the family barred news cameras from the ceremony. A family statement issued afterward said close friends and family, including the Rev. Al Sharpton, spoke "spontaneously to celebrate Michael's life."
News helicopters hovering above captured video from a distance, but without sound.

Watch media cover Jackson funeral »
Lisa Marie Presley, one of Jackson's former wives and the daughter of Elvis, attended the service, according to the family statement. It did not mention Debbie Rowe, Jackson's second wife and the mother of his two oldest children.
Macaulay Culkin, the "Home Alone" actor who spent time with Jackson during his Neverland Ranch days, was there with his girlfriend, actress Mila Kunis.
-CNN-
Posted On Selasa at di 3:33 PG by kerengga
Posted On at di 2:55 PG by kerengga
Amir Junaid Muhadith (born Chauncey Lamont Hawkins, June 20, 1975 in Harlem, New York) better known by his stage name Loon, is an African-American rapper formerly part of P. Diddy's Bad Boy Records, where he released his self-titled debut album, Loon. He has also made many guest appearances on songs of the R&B and hip hop genres. In 2004, Loon left Bad Boy to start his own label, Boss Up Entertainment. Loon started his music career as a member of Mase's rap collective Harlem World (group). Along with his music Loon has also been featured in two movies directed by Damon Dash, State Property 2 and Death of a Dynasty.
Born Christian, Chauncey Lamont Hawkins(Loon) changed his name to Amir Junaid Muhadith after converting to Islam. He recently traveled to Mecca, Saudi Arabia, the holiest and most sacred site in Islam, to perform Umrah. He has since quit rapping and now is focusing on seeking knowledge and giving Da'wa.
-thedeenshow.com-
Posted On Sabtu at di 9:05 PG by kerengga
Michael Jackson, the sensationally gifted child star who rose to become the "King of Pop" and the biggest celebrity in the world only to fall from his throne in a freakish series of scandals, died Thursday. He was 50.
Jackson died at UCLA Medical Center in Los Angeles. Ed Winter, the assistant chief coroner for Los Angeles County, confirmed his office had been notified of the death and would handle the investigation. The circumstances of Jackson's death were not immediately clear. Jackson was not breathing when Los Angeles Fire Department paramedics responded to a call at his Los Angeles home about 12:30 p.m., Capt. Steve Ruda told the Los Angeles Times. The paramedics performed CPR and took him to UCLA Medical Center, Ruda told the newspaper.
Jackson's death brought a tragic end to a long, bizarre, sometimes farcical decline from his peak in the 1980s, when he was popular music's premier all-around performer, a uniter of black and white music who shattered the race barrier on MTV, dominated the charts and dazzled even more on stage.
Known as the "King of Pop," for hits that included "Thriller" and "Billie Jean," Jackson's dramatic, one-gloved stage presence and innovative dance moves were imitated by legions of fans around the world. His 1982 album "Thriller" — which included the blockbuster hits "Beat It," "Billie Jean" and "Thriller" — remains the biggest-selling album of all time, with more than 100 million copies worldwide.
He transformed music videos and his lifetime record sales tally is believed to be around 750 million, which, added to the 13 Grammy Awards he received, made him one of the most successful entertainers of all time.
Michael became a Muslim last year.
source: AP
I will always remember MJ for this piece................
"Billie Jean" is a 1983 hit single from Michael Jackson's Thriller album. A number-one hit on the Billboard Hot 100, the song was also the number-one R&B single for nine weeks in the United States ................
R.I.P and Al-Fatihah...
Posted On Ahad at di 11:47 PTG by kerengga
Posted On Isnin at di 1:12 PTG by kerengga
Assalamualaikum,
If you want to embrace Islam, here are things that will make it easy for you.
Basics
There are only three basic beliefs in Islam:
1. Allah - or God. This is the all embracing, omnipotent being which all creations must submit to. He is the Creator. Allah is God, but a god is not necessarily Allah.
2. Muhammad. He is the messenger of Allah. He teaches and spreads the teachings of Allah.
3. Life in the hereafter- known as Al Akhirah. That all creations will be resurrected after death is a basic belief in Islam.
To convert to Islam all one has to do is to testify the shahada.
See here
.
Once you have the urge, strength and the pull to embrace Islam, just testify the shahadah. Then you will become a Muslim. But because converting to another religion has various implications, it is wise that one testifies the shahadah in front of witnesses, and get the paper works done.
If you want to convert to Islam, but you still sway back and forth, then I suggest you do thes e things:
1. Face the direction of Makkah. [approximately, even if you get it wrong it does not matter]
2. Raise your two hands with your palms open as to make supplication
3. Then say with utmost sincerity: Oh Allah, please give me your guidance
4. When nothing happens, repeat it anytime you are at ease.
If I am sincere with this posting, you will see a result.